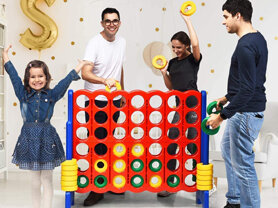 Yard-Sized Connect 4
Jumbo 4-to-Score Yard-Sized Game Set, 4 in A Row for Kids and Adults. Game set with 42 jumbo rings & quick-release slider.
Perfect for a family or party game.
*Warehouse Pickups require a minimum order of $50.00 before sales tax in order to check out.
*There is a $5 charge per piece for games returned with missing pieces.