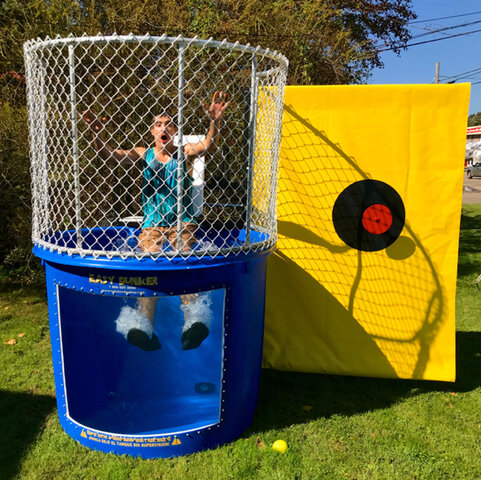 "Easy Dunker" Dunk Tank
Dive into a world of wild laughter and refreshing aquatic adventures with our spectacular Dunk Tank! Picture this: friends, family, and coworkers gathering around, eagerly awaiting their turn to take aim and send someone splashing into the cool depths below. With every hit, cheers erupt and hearts race as participants, now soaked and smiling, rise from the water with a mix of shock and delight. Whether you're hosting a backyard bash, organizing a charity event, or simply seeking an epic addition to your next gathering, our Dunk Tank guarantees an ocean of laughter, unforgettable moments, and a tidal wave of fun for everyone involved!

Tank itself is proudly made in the USA, and includes a window to view the dunk itself.

Our newest addition to Haus of Hop, our brand new dunk tank will be available for rent starting July 27th, 2023!Cost is $275 per standard 4 hour rental. Rental for time exceeding 4 hours is $350/day

*Holidary Rates prices may vary.
Please note that the renter is responsible for filling the dunk tank with water upon delivery and draining the tank of water before pick up!
Filling up the dunk tank with a standard waterhose takes about 45 minutes. Draining a full dunk tank takes about 15 minutes.